Welcome,
Welcome back,
and Welcome Home to
Ballard Vale United church
We are a Reconciling, Open & Affirming Congregation
(that means really welcoming and LGBTQIA+ affirming)
of the United Methodist Church and the United Church of Christ.


No matter who you are, or where you are on life's journey, 
you are welcome here. 
Please join us for worship every Sunday morning at 10:30AM.



Our worship is available live in our sanctuary and on our Facebook Page.
Please see our COVID-19 page for more details.
Last Week's Worship Service
The main part of the service begins after announcement slides scroll for several minutes
Every donation enables us to support our church's bold voice
for LGBTQ-affirming, justice-seeking Christianity,
and many local, national and international community efforts and charities as well.
Please prayerfully consider a donation to aid in our endeavors.
Summer 2021 Worship Series
Tending the New Creation
What does it mean to be a "new creation?" We all yearn for renewal—as individuals and as a congregation—but are we willing to pursue it? How is our own personal renewal connected to "new creation" in others, in our communities and in the world itself? In coming out of our pandemic cocoons, how will we resist the urge to run back to all of our old ways of living? "Tending" means to lean in the direction of something: to "attend" to something is to nurture it, grow it, build it, pay "attention!" So this is what we will do on the eight-week journey toward the new creation Christ in-tends for us!
Click on the photo below to learn more!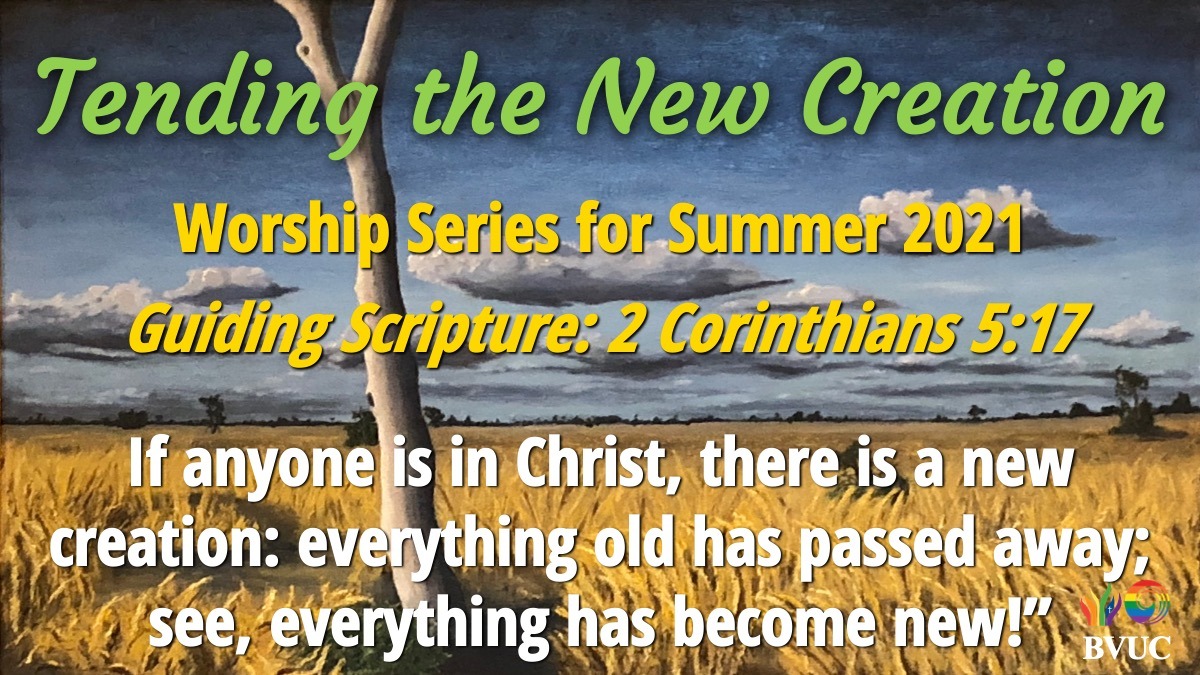 July Mission: Book Sale for Oliver School
Thank you to everyone who has donated books—the book sale is going to be fantastic!
Join us on Saturday, July 24 from 10:00-2:00 in Shaw Hall. We have HUNDREDS of books and they are priced to sell: Hardcover $1, Softcover 2 for $1, Children's Books 4 for $1, with a few special exceptions. All proceeds going to the Oliver Partnership School in Lawrence.
We are no longer accepting any additional book donations.
Q&A with Rep. Tram Nguyen
On Wednesday, July 28 at 6:30, MA State Rep. Nguyen (18th Essex District) comes to us! Come to Shaw Hall to hear her speak about her anti-hate crime bill and her racially and culturally inclusive education bill and have a chance to ask questions. In order for her to give a researched response to your questions, please send your questions in advance if you can to Pastor Adam by Sunday, July 24th.
Baseball Sunday: August 8
Join us for worship on August 8 for a service in 9 innings complete with Cracker Jack, special music, and lighthearted fun.
Bring your gloves and wear your baseball gear! And remember, God doesn't have a favorite team, so we have to be respectful even to people who wear Yankees gear, although we may have to have a special confession liturgy for them.
June Mission Project a Success!
During the month of June we collected over 50 bags of clothes for the United Methodist Economic Ministry (UMEM) in Salem Township, Maine. Your generous response was overwhelming! Thank you for a successful drive!
Children's Sunday Noisy Offering Results
Every year on Children's Sunday the smallest members of our church community collect the smallest denominations of money and make a huge impact! Just from collecting loose change (with a little folding money too) we raised over $250! The money goes to the Nicaragua Covenant of the New England United Methodist Church to pay for fuel for stoves which our church helped to build some years ago.
Calendar
Please see below for church & church-related events or click this link to open in your browser.