Welcome,
Welcome back,
and Welcome Home to
Ballard Vale United church
Please join us for worship every Sunday morning at 10:30AM.



Our worship is available live on our Facebook Page.
Please see our COVID-19 page for more details.
Last Week's Worship Service
The main part of the service begins after announcement slides scroll for several minutes
Every donation enables us to support our church's bold voice
for LGBTQ-affirming, justice-seeking Christianity,
and many local, national and international community efforts and charities as well.
Please prayerfully consider a donation to aid in our endeavors.
Special Easter Offering Results!
This Easter, we are asked for your support through a special offering. We are so happy to report that we raised over $900 to support our designated mission partner, Neighbors in Need. This season, Neighbors in Need's work includes operating its nine food pantries, all of which have reopened, as well as their Infants in Need program providing diapers, formula, and other baby products to families with small children.
Book Study: "The Heart of Christianity"
Pastor Adam is leading a book study on The Heart of Christianity: Rediscovering a Life of Faith by Marcus Borg. An instant classic since its 2003 publication, this books helps us reclaim timeless elements of Christian faith in our contemporary, post-modern American context.
Open to people inside and outside the church, this study takes place on Monday evenings from 7:00PM-8:30PM from April 19 to May 24. You can purchase your own copy or buy one for $18 (by check to BVUC).
Contact pastor@ bvuc.org to register and for the Zoom information.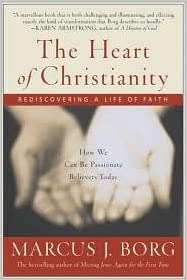 Resuming In-Person Worship
Our worship is live streamed online every week. We also allow for up to 25 people to make a reservation to worship in person in our sanctuary. All of the details, including how to make a reservation, are on our COVID-19 page.
Calendar
Please see below for church & church-related events.